< Previous
|
Next >
Friday 9th April - San Cristobal de las Casas.
Sunday, 11th April 2004 22:57
We woke upto the sounds of the jungle, mostly birds making weird noises, one especially that sounded like the clockwork offspring of a cuckoo and a duck. The sun was very bright, and everywhere was full of tropical flowers and hummingbirds.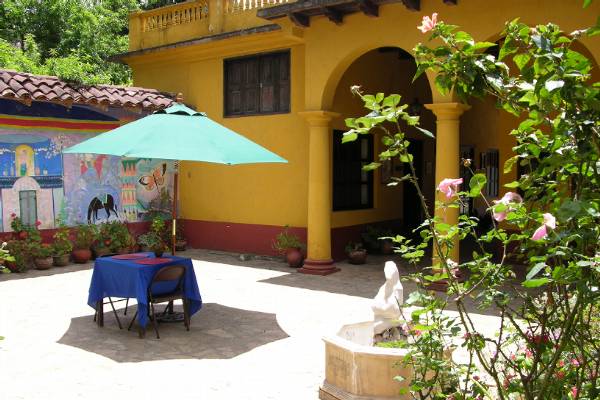 The hotel is also a museum of a (possibly Swiss) explorer's travels through the area in the early 20th Century. We spent a little while wandering round the place, and then headed out into the town.
When we finally found Zocalo, which I'm guessing is 'downtown' it was a smaller, less impressive version of Oaxaca. It was much cooler too, much dirtier, and packed with dogs. And not just the ubiquitous Original Dog (like I imagine a coyote to look, a sort of collie-Alsatian cross) but real, individual ones like poodles and rottweillers spaniels, all of which were thin and old-looking. We booked a tour of Palenque, the real reason for being here - I saw it described as 'The Lost Jungle City' although it was found again in the '20s. Leaving at 6.45 in the morning, the tour would take 14 hours, but would stop at some pretty waterfalls too.
At about 4pm it rained. Absolutely poured down, the streets were under inches of water and it just didn't stop. Seeing this as an opportunity to try out our very expensive raincoats, we walked back to the hotel drenched from the bottom of our jackets but nicely dry everywhere else!
That morning, before we'd left the room, a man knocked on the door and offered us firewood. We laughed and said we didn't need any. Now the stone fireplace looked like a very good thing indeed, so we lit the fire with the resinous kindling they'd provided and it was really glorious.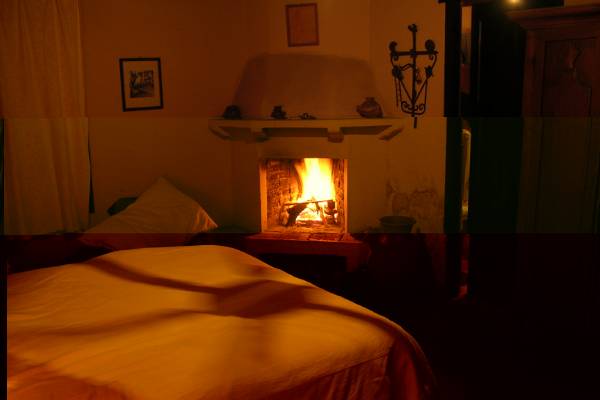 We had a picnic of biscuits and chocolate and then went to sleep with the thunder storm still going on outside.
< Previous
|
Next >