< Previous
|
Next >
Oaxaca - I Still Have Trouble Saying It
Monday, 19th April 2004 00:38
Because of our inability to get a bus to Oaxaca from Acapulco, we had to go via Mexico City. Until we reached Mexico City we were unable to book a bus to Oaxaca and so it turned out to be a late bus :-( Whilst waiting for it (it left at 12:15am) we spent some time exploring Mexico City and rearranging all of our hostel reservations. This meant two things with respect to Oaxaca. Firstly, we would arrive in Oaxaca at about 5.30am and secondly, we would only be there one night instead of two. The latter of these didn't bother us too much as we would be in separate dormitories and we decided that we would buy future bus tickets when we arrived in Oaxaca to kill time before going to the hostel.
Having bought tickets from Oaxaca to San Cristobal and from San Cristobal to Merida, we headed wearily towards the taxi rank. Sleeping on buses, even comfy ones, is not easy and we felt dirty and tired. The Hostel Paulina proved to be not too far away and open at 6:30am. What's more, they were quite understanding of our predicament (we had emailed ahead) and although we offered to pay for both nights we were supposed to stay there, we only ended up paying for one. Anyway, they kindly suggested we have a quick sleep and then do the whole registration thing afterwards. That seemed like a good idea.
After a brief sleep and a shower, we felt much better, and hungry. Perhaps I should say at this point why I'm not to keen on dormitories. Imagine many beds full of sweaty, sleeping men. Some of them are snoring. You want your own room now don't you? So, I crept into my assigned room looking for bed number 74. The first sight that greeted my eyes as they grew accustomed to the darkened room, was of the wrong end of a naked man, blissfully displaying all as he slept. I managed to delete the image from my brain long enough to get to sleep!
It was as we ventured out after our sleep that the differences in Oaxaca became apparent. For a start, everyone seemed so much more relaxed and laid back. Another instant difference was how clean the place was. In Mexico City, they did keep the place pretty clean. The Plaza de la Republica got messy from all of the people in it and the street vendors etc but they came along and cleaned it regularly anyway. Oaxaca took it a step further and in comparison seemed spotless. To top it all, the central square (a 3 minute walk from the hostel) was beautiful. We walked in most directions from that square just to see what we could find and there were quite a number of hidden, elegant courtyards, nice buildings and the stunning Santa Domingo cathedral. Oaxaca certainly was a place that would be difficult to beat.
Whilst wandering around, we booked ourselves a tour to Monte Alban and had a spot of lunch. It's a shame though that there were a large number of tourists in Oaxaca as they sort of spoiled the ambience a bit. But then, if tourists weren't such a big part of Oaxaca, would it be as nice?
Since we were only staying in the hostel for one night, we had to checkout before taking our tour to Monte Alban. Most hostels let you store your bags for the day that you checkout and we took advantage of that. Our tour bus (a van really) picked us up just before 10am and whisked us (and some other people) up to Monte Alban in about 20 minutes. Fortunately our tour included a guide and an English speaking one at that. His knowledge of the site and the culture of the people who had lived there was excellent. Only about 20% of Monte Alban has been excavated so far because funding ran out in 1996. Some of the buildings that have been excavated have been partially rebuilt so that you can see what they actually looked like. I think Claire has gone into more detail about the site and our trip so I won't repeat the facts here. For now, here's just part of the place...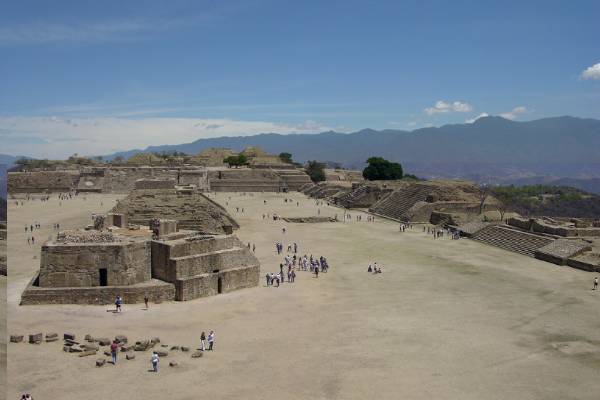 Back in Oaxaca, we had a late lunch with an Italian couple we had been talking to whilst on the tour of Monte Alban (hi there if you're reading this) and pottered around for an hour or two before catching our bus to San Cristobal.
Oaxaca is definitely somewhere I'd like to go back to. As our guide out it, Oaxaca has two types of weather. Good weather and even better weather. That, to me, sums the place up.
< Previous
|
Next >