< Previous
|
Next >
Sunday 17th April - Caye Caulker
Wednesday, 21st April 2004 01:38
The sun sets at 6 here, and rises again about 5.30am. Our cabana, facing east over the sea, was fully bright by that time, so I lay in bed and read (and ate mars bars) until about 10, a throughly relaxing morning! This is a view from the cabana: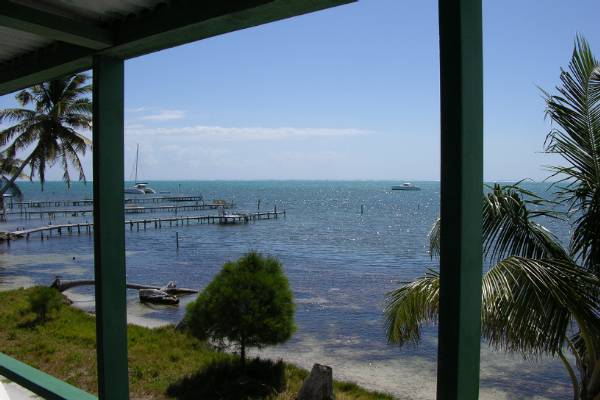 We went for a walk to the southern tip of the island because that's where the airport is and I was wondering if it was worth flying to Placencia, in the south of Belize, rather than take a bumpy three-hour bus trip from Belize City.
We walked along the seafront, through mango groves and mangroves, stopping to take pictures of large scaly lizards (called Wish Willies, apparently, but I don't know why) and we reached the airport in about 20 minutes. Tiny, with a long runway running east to west so that the planes can take off into the wind (Mikey's been educating me in technology. It's not, generally speaking, for girls, and I'm still not convinced that planes can actally fly, not believing in physics, but I'm content to let that go for now). Anyway, the airport was a hut as the ticket office and a verandah for the departure lounge. Several people were sitting in the shade while their luggage sat on the runway waiting for the plane. A flight to Placencia was 170 Belizean dollars ($85 US) which was quite expensive, so we thought we'd get the bus instead. We carried on walking. And walking, and we got lost. We were stuck between swamps, mangroves and mangrove swaps. With some sticky grey mud for good measure. For about an hour we were (I was) unwilling food for thousands of mosquitoes who couldn't quite believe their luck that someone was stupid enough to walk through a swamp without insect repellent... Serves me right. We finally found ourselves back at the airport by following the landing planes, and walked down the runway for a kilometre or so. We had to get out of the way a couple of times because planes wanted to land and I thought that they might have right of way, but that's only fair really.
We had a well-deserved lunch at a beachside bar, and I spent most of the afternoon lying in the shade reading. Just before 6 we went for a walk again, and, thinking itmight rain, we left the cameras in the room, only to witness the most spectacular, blood-red sun setting behind neon pink and purple clouds. I suppose that'solne just for us, then. We booked water taxi tickets to San Pedro, the town on Ambergris Caye, the big island slightly further north, for the morning and went to have supper. On the way back a giant shape trundled across the restaurant car park. Closer examination (why!) revealed it to be a very large crab, eight spindly legs shuffling it sideways in a cartoon fashion, a big left claw waving menacingly and beady little black eyes on sticks. It was just wrong, crabs do not belong in car parks and I was a bit offended by its cheek, but only a few yards down the road, at the local basketball court there was an evangelical church service going on and the gospel singing took my mind off it. Thirty or forty people were in the stands singing and dancing and clapping their hands while every now and then the preacher guy at the front would shout out that Jesus loves us all, or that we should Praise His Name. It was sooo catchy and I could have stood and watched for hours, but I didn't.
The wind had picked up again and our cabana, only a single room (with a bathroom alcove) on stilts, was shaking a little bit. It had windows on all four sides but the weren't glazed, just covered with little wooden slats that tilted to let light in, or to keep it out. The breeze all the way through the room was very pleasant, so we left the windows open wide, ignore the gales going onoutside and went to sleep. I was bitten by more than 30 hungry mosquitoes (or one very greedy one) and I still itch everywhere :-(
< Previous
|
Next >