< Previous
|
Next >
Agra-phobia?
Monday, 29th November 2004 11:14
We headed for the sister hotel in the morning having managed to clean the dust from our bodies and clothes from the previous day. We had a quick breakfast and met our driver downstairs. The manager of the hotel told us that the driver shouldn't try to take us shopping anywhere but that we should say "no" if he tried. We thanked him for the advice and left.
Our first stop was only a few kilometres away in an area called Sikandra. Here we visited Akbar's mausoleum. The Akbar that we're talking about here was a Moghul ruler in the early 1600s and not the funny headed Admiral from Return of the Jedi. Built out of rich, red sandstone it was very impressive and a good way to start the day. We had to fend off several (actually many) offers from people wanting to be our guide. One old man just wouldn't listen as we said "no" over and over again. A small group of Indian men interrupted for a welcome second to have their photos taken with us before the old guy just started taking again. I think he eventually got the message as we walked off and left him behind. He might still be talking to us for all I know though.
After seeing all we wanted to see of the mausoleum and its surroundings and monkeys, we jumped back in our taxi and headed 40km out of Agra to the abandoned city of Fatehpur Sikri. Akbar established this city as the new imperial capital after becoming fed up with Agra's congestion but it had to be abandoned eventually as there wasn't enough water to go around. Our guide book told us this and lots more but our driver seemed to think that we ought to have a guide. As such he stopped no fewer than three times on the way to pick up guides. We told him we didn't want one each time. His persistence may have been born from kindness and caring or from the commission he would have no doubt received from the guide. My cynical mind suspects the latter.
Once inside the city we tried to wander around at our own pace, enjoying the sunshine, the views and occasionally some peace. We had turn down quite a few guides, some more forcefully than others. It's not that we have anything against them but the price they quote at the beginning is rarely the price they expect at the end and some of them are shockingly bad. For our own amusement we made up rubbish about the city and tried to make it sound convincing. If we get stuck for money we might see if anyone's gullible enough to go for that sort of thing.
On the road leading to and from Fatehpur Sikri there were many men with bears at the side of the road. I'm not sure what sort of bears they were but some of them didn't look very happy. I saw at least one exhibiting the swaying behaviour of an unhappy and distressed animal. The men to which these poor beasts were tethered would walk them out in to the road on their back legs to try and encourage oncoming traffic to stop and take in a show. I'd like to think that the bears will eventually maul their captors but I doubt it. The Indian government should be embarrassed to let that sort of thing go on but I suspect that they don't really care. Thankfully our driver didn't suggest stopping...
Back in Agra we left our driver and headed to our hotel and then out to check our email. We had a lazy rest of the day and had a little bit of supper at our hotel. The potato and pea curry that I had was rather nice and not too rich or hot.
The room that we were in had its own bathroom but there was a grated opening high up on one wall that was shared by the bathroom of the room next to ours. That night and the following morning we were treated to some amusing conversations from the three women next door who either did not know about the opening or did not care. One of them was from Glasgow and louder than all of the rest of them. She particularly liked to talk to her two room-mates while she was having a shower.
Since it was now Saturday we could go to the Taj Mahal (it's closed on Fridays). We had some breakfast and changed rooms at the hotel (they forgot to write down that we wanted to stay on Saturday night too) before walking the 50m distance to the east gate. After paying and going through an annoying but lax security check we were in to the compound. From there the Taj Mahal isn't quite visible but hidden behind another gate. We didn't waste much time and went straight for the gate.
The Taj Mahal was described by the poet Rabbindranath Tagore as a "tear on the face of eternity". Until you've seen it with your own eyes that could mean almost anything and even now I'm not entirely sure what was meant. However I have to say that the Taj Mahal is THE most stunning and beautiful building I have ever seen or expect to see. In the Oxford English dictionary the definition of the word "breathtaking" should be "Go and see the Taj Mahal".
I knew that it was big and made or marble but I wasn't quite prepared for how big it was.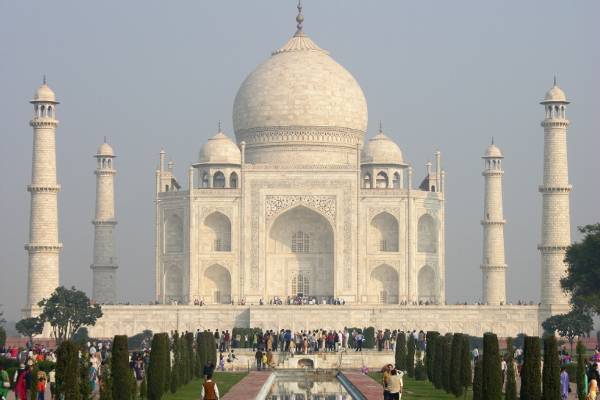 Like ants, tourists scurry around Shah Jahan's monument to love but it doesn't seem to matter. No matter where you look there's a huge, white building right there and you can't help but gaze at it. The sad part is the erosion that's being caused by Agra's pollution. Up close you can see where acid rain has taken its toll on the clean marble. Even sadder is the fact that very little of the money raised from entrance fees charged goes towards protecting the Taj Mahal so it is rumoured. India has the most beautiful building in the world but not enough is being done to protect it.
Having basked in the beauty of the Taj Mahal for long enough we took a rickshaw to Agra Fort. Akbar apparently built this at the same time as Fatehpur Sikri (40 km away) which is just a little confusing. The huge, red sandstone fort is used by the military today although some of it is open to the public. We spent a few hours wandering around inside, safely ensconced from the "guides" at the front gate. We bumped into a French documentary crew at one point and took advantage of their presence to take some pictures without too many tourists in shot. The fort is apparently typical of the many forts dotted around Rajastahn and we'll probably see a few more like it.
After a few pleasurable hours wandering in the sunshine we took another rickshaw back to our hotel and had a lazy afternoon. The two young men in the internet cafe realised that I knew a little more about computers than the average tourist and asked lots of questions about my job (former job that is) and the computer industry in England. They were very interested in the differences in price of blank CDs in England and India. They also had a bet on the grammatical correctness of a particular sentence that we cleared up for them.
We had wanted to see the Taj at night as it was opening in the dark for the first time in twenty years but we found out too late that the numbers were limited to 400 and that we'd missed our window of opportunity to buy tickets. Maybe next time. Instead we had a quiet evening eating potato and spinach curry.
Agra has been a lot easier to cope with than I was expecting. The guidebooks and people we've spoken to have described it as "predatory" but we haven't had any trouble. Certainly nothing more than some persistent and annoying rickshaw wallahs and we can handle them now. After escaping to Darjeeling for some peace and quiet I've come to terms with India. I can't change the things I don't like, I'm just going to concentrate on the nicer things and try to sweep the rest under the carpet. And in twenty days when we're done, there's a nice clean Christmas holiday to look forward to.
< Previous
|
Next >