< Previous
|
Next >
Psychic Lima
Friday, 7th May 2004 01:38
Flying from Dallas to Lima seemed to take forever. It only actually took 7 hours. It didn't occur to me at all during the flight that we were at some point crossing the equator, I only thought about it several hours later.
As well as being the supposed origin of Paddington Bear (Why did he not have a Spanish accent?), Peru is a country that worried me slightly. Part of it was because I knew less about it than any country we've visited so far, part of it is because it's a long way away from anywhere I've been before and part of it is that before Peru we could have been on a long holiday. Our arrival in Lima was a reminder of what we're doing (not that it's a scary or bad thing) and how long we'll be away for. Fortunately Peru has offered little to justify any of my worries so far. That's good.
We arrived at Lima airport at around 11.30pm and we were immediately set upon by lots of people wanting to organise our stay in Lima. Did we have anywhere to stay? Did we want a taxi? Did we want to go to Machu Picchu? That late at night, and because we hadn't organised anything, it was a bit too much really. We ended up talking to a woman about hotels in Mira Flores to get some of the other people off our backs whilst simultaneously discussing what we really wanted to do. We decided that since what we most wanted to do in Peru was visit Machu Picchu, we should get to Cusco as soon as possible. As it turned out there was a flight there at 5.45am. That solved lots of problems but created some more. For instance, what do you do in Lima airport for 5 hours overnight?
Skipping briefly over a few hours of checking emails, finding toilets, drinking tea and killing time, we boarded on time and I was asleep before we even took off. I slept most of the one hour flight time and missed the sun rising and the breakfast rolls that were handed round.
Cusco is nestled in the middle of some pretty big mountains some 3350m above sea level. Another first for me, the highest I've been above sea level (except for flying of course). By the time we landed and got off the plane, I had the shakes. I'd been awake for 24 hours, I was hungry and I was suffering a bit from the high altitude. Once again we were beset by offers. Actually, there were fewer of them this time and we relented and started talking to one. Pretty quickly we found ourselves in a small hotel just next to the main square. The room was a bit cold but the bed was huge and thick with blankets. Of course we couldn't resist a nap of a few hours or so!
We were woken just after lunchtime by a knock on the door. A chap called Karim from the travel agency that found the hotel for us had come to see if he could help us with our time in Cusco. We ended up chatting for about 90 minutes and booking quite a lot with him. For a while I was concerned that it was going to cost us a fortune but we realised that we were actually within our budget and that we wouldn't have to worry too much about organising anything else for a few days.
The rest of that day, we wandered very slowly around Cusco trying to get used to the altitude. Here's Cusco as seen from one of the nearby hills. The main square can be seen vaguely in the centre of the picture.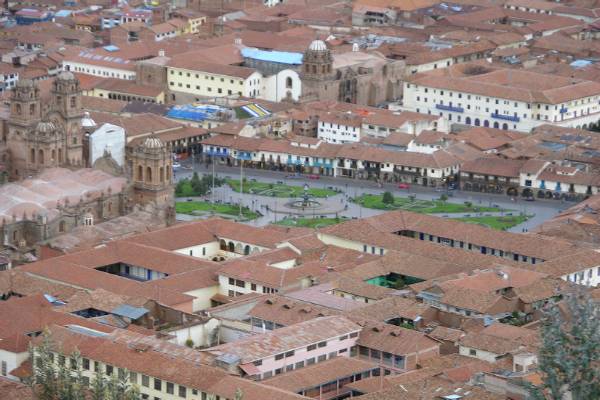 The following day we were picked up nice and early for a tour of the Sacred Valley of the Incas. The valley floor is nearly 1000m below Cusco and the climate and fertile nature of the land lends itself to agriculture. Most of the land there is farmed and has been since the time of the Incas. We made several stops on the way down into the valley. One of these was a small village that had only recently been reoccupied following the near eradication of the Shining Path terrorist group. Most of the buildings were built from mud and we learned that since the police presence was non-existent, justice was handled by the people. (Stealing a piglet would earn you a shallow grave somewhere.)
Other stops included the town of Pisac, purely for looking at the market (not really my idea of fun), and a buffet restaurant for lunch. Lunch was actually quite funny as we were treated to some pan-pipe classics whilst we ate. John Lennon, the Beatles and Simon & Garfunkel featured heavily. (You soon get fed up of hearing El Condor Paso I can assure you!) To the great delight of some northeners in our party, there was also a teeth grinding rendition of My Heart Will Go On (of Titanic fame).
Whilst on the subject of people and tours in general, I should probably mention that I'm not a huge fan of organised tours. It's nice to see the bits of a country that aren't just tarted up for the tourists. Sometimes however tours cannot be avoided. Unless you have a car and know the way (signs and directions are few and far between), most places in and around Cusco are best seen by tour bus. Some tours you're lucky and you end up with a bunch of people you're not embarassed to been associated with. Most of the time there are always one or two people you'd like to leave behind in the middle of nowhere. This tour was no exception. Usually in this situation, the offenders are either British or American and we just speak very, very quietly so that they think we don't speak English. That way they leave you alone. Enough of my griping anyway.
After lunch, we headed to an Inca town called Ollantaytambo (try saying that after a few beers). The town itself retains quite a lot of original Inca stone work on to which, more modern buildings have been constructed. The town also boasts an Inca fortress. Many stone terraces lead the way up to a temple where several massive stones rest. All of the stones used to build the fortress came from a quarry about 6km away. Archealogists recently tried to move an 11 tonne stone from the quarry to the fortress using the methods they think were used by the Quecha builders. It took them 3 months!
One thing you notice, and tour guides draw your attention to, is the quality of the stone work and the skill of the construction of all of the ruins we have seen. Mortar was rarely used. Instead, each stone is carved to fit exactly. The finer the carving, the more important the building. The amount of effort involved in building even the simplest of structures might even compare with the pyramids in Giza! No matter how many Inca ruins I see, I never get bored of admiring the way they were built. It's just a shame that the Spanish came along and knocked so much down.
After Ollantaytambo, the last stop on the tour was Chinchero, another ruin. This one was the palace that Pachacuteq had built for himself away from Cusco. Not much remains of it but some of the stonework was used by the Spaniards for the foundations of the town's Catholic church.
Our second tour, the following day, was of the some of the landmarks in and near to Cusco. Two of the highlights of that tour were the Cathedral and Sacsayhuaman (the tour guides suggest that it is easier for tourists to pronounce this as sexy woman). The Cathedral was built over a period of 100 years of so and quite breathtaking. It is divided into three distinct sections and you could spend an afternoon looking at all of the art in there alone. There is quite an interesting blend of cultures to be seen as although it is a Catholic place of worship, all of the building work and most of the art work was undertaken by converted natives. So, in the painting of the last supper, there are stars and the moon to be seen in the sky outside. These were important to the Andean culture before the arrival of the Spanish. Also, the table was round whereas the Spanish would have preferred it to be rectangular. The appearance of the twelve at the table is interesting too. Then there's the presence of tradtional Andean dishes (such as Guinea Pig) on the table.
Our final full day in Cusco we spent doing some shopping, taking some photos, visiting the Inca Museum (very interesting) and getting ready for the Inca Trail and Machu Picchu.
< Previous
|
Next >