< Previous
|
Next >
Thursday 20th May - Puerto Natales
Sunday, 23rd May 2004 20:51
We had intended to get up early and find a sightseeing tour but it was too cold to get up. We managed it in the end, though, and had breakfast. We mentioned all the places we wanted to see to the lady running the hostel and she said she'd organise it all. So we didn't have much to do today, we just wandered aimlessly through the town stopping at all the open camping shops to see if they had rucksack sacks bigger than the ones we already had (useful for stopping straps getting caught on airport conveyor belts and for protecting the bags in buses) but no-one did.
There are two town squares in Puerto Natales, about 10 streets apart. They are both a whole block in size (maybe sixty yards wide) and have little paths and tiny sculpted hedges leading to the middle. In the centre of the main square there is a platform with a rusty steam train shell on it. In the other, there is just a rather disappointing two-bulb sodium light. Maybe that's why it's just the subsidiary town square.
We tried to hire a car but the only place that was open said it was too dangerous to drive without winter tyres and their only available car didn't have them at the moment. Our guide book recommended climbing a mountain (which the army guy on the bus yesterday said he wouldn't like to do in this weather) or taking a bus to a giant plastic sloth statue. Which sounded like fun.
Of course, this being winter, there were no buses going there, but the lady in the bus company office offered us a taxi and before we could answer she'd called one and it turned up. The driver took us out of town, past the wilderness of autumn trees, every shade of orange, red and yellow as far as we could see (it was quite foggy) and down an unpaved road. About half an hour later we stopped at a deserted hut and a man ran from one building to the other, we paid the entrance fee and wandered round a small museum. It turns out that some bones and skin were found in the caves here, belonging to a big bear-shaped sloth, called a myladon, about ten feet tall (as big as a house), that lived in the region about 10,000 years ago. The prehistoric people who were around then used to hunt them. The skin was so well-preserved that the scientists originally thought that myladons might still be around, but they haven't been for thousands of years.
The taxi driver waited for us while we walked through the cold to the cave. There were loads of miniature trees all around and a pretty view of the sun over a lake in the distance. At the entrance to the cave was a tree covered in icicles that was rather spectacular - there should be a photo here shortly.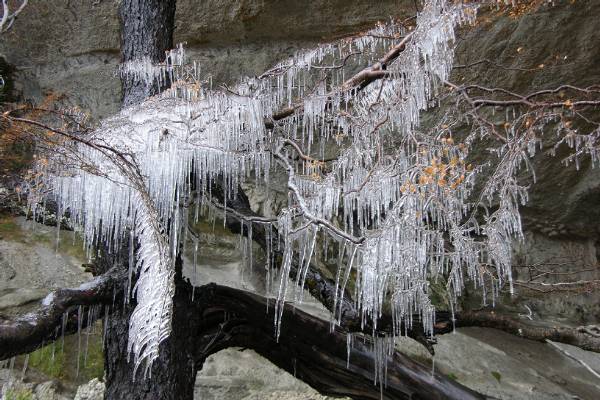 Inside the cave was a little path leading round to a huge plastic statue of the myladon. I had some fun with the echoes in the cave as we were all on our own, and we took a few pictures.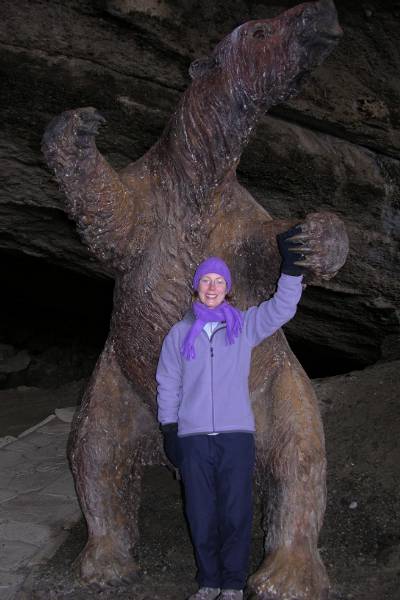 We went back to town and asked the taxi driver to drop us off at the beach. We walked along grey sand and purple mussel shells for an hour or so, taking pictures of big birds and black-necked swans, and playing with duck skulls. There were a lot of skulls on the beach and little frozen rock pools.
Back in town everything was closed for lunch, even the restaurants. We went into one hotel and asked if we could eat there and the receptionist looked horrified and made two phone calls. She gave us a voucher for free drinks and a map with directions for the only place in town that would be open for lunch. On the way there we found a sweet shop selling three types of Cadbury's chocolate that I'd never seen before and lunch was put on hold.
I was down to my last film so we stopped at the only open camera shop and bought some more. I also got two films developed and they were so underworked they did them immediately instead of waiting until Monday. They didn't have a lead-lined bag, which is next on my shopping wish-list, but the lady understood what I meant, which was nice. Apart from the man on the bus yesterday, we have been managing to communicate with people entirely in our approximation of Spanish, which is quite satisfying, but unfortunately it is preventing me from lying to strangers.
We uploaded a few diary things in an internet cafe, Mikey burned about 120 photos onto a CD and I saw the Belize diving photos for the first time. Some of them were quite nice. After that it was dark and time for supper, so we found a little cafe and ate far too much. We remembered to save some steak for our dog friend, as he had tracked us down again and followed us for a while. The only camping shop in town that we hadn't tried was open from 5pm so we asked them for a sack but they didn't have any. They did have telescopic sights and rifles though, and scabbards for machetes. And machetes.
Back at the hostel the lady had organised tours for us for the next three days. Tomorrow (early!) we're off to Torres del Paine national park, supposedly one of the most spectacular places in the world, and I've been looking forward to it for ages. I hope it's sunny.
< Previous
|
Next >