< Previous
|
Next >
Tuesday 20th April - San Pedro
Wednesday, 21st April 2004 01:53
We went diving this morning because Belize has the second largest barrier reef in the world. We both took sea sick tablets cos neither of us do boats, and I actually enjoyed the boat ride, even though it left the water on a number of occasions and smacked down flat very hard on the other side of the wave. A dolphin decided to come and play with the boat, something that only seems to happen in cheesy films, so the driver, a fun guy called Robbie, span the boat round in circles for a while because dolphins like it. Mikey didn't.
I was much less seasick once I was in the water, and the further down we went the less the current affected me. It was quite a lovely dive, 45 minutes of silence except for the occasional clicking of a dolphin and the ping when one of the guides hit his tank to show us something. We saw a nurse shark, baracuda, at least two huge sea turtles (whoa there little swimming dude, it's like sooooo cool) and I swam through a coral tunnel, the first step towards cave diving... I even met Jesus, which was nice.
Mikey wasn't so fortunate, and looked decidedly unwell on the way back. He sat out the second dive, graciously letting me out for another hour or so. The second dive was lovely too, and best of all was the dolphin who came to play with us, almost knocking into one of the other divers. Sea turtles came out too, and a big sting ray floated gracefully past. There was a giant lobster with purple feelers that scared me a bit, and the usual fluorescent coral, tiny purple fish and big rainbow-coloured ones. Robbie the boat driver took a whole bunch of photos on this dive (we were too deep for my little disposable one) so, although it's cheating, I'll post a couple when we get the disk from him tomorrow.
I had a hot shower, the first one in nine days, and you know what? It felt good! Mikey was about ready for lunch, so we had a sandwich in a beach bar, sat around and read for a while, found a supermarket that sold Cadbury's chocolate (still got 7 bars left from Robin, I'm saving them) so I stocked up a bit and bought rich tea biscuits for breakfast tomorrow. Here's a picture of the sunset this evening: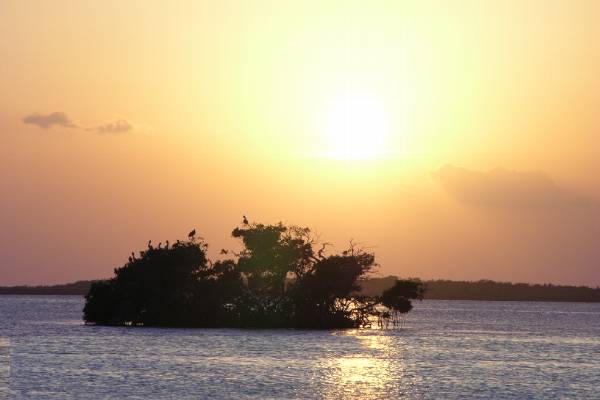 Had another wander round the island, came back to write diary stuff and after supper we'll post these. Off to Placencia tomorrow, a town on the mainland, right down in the south.
< Previous
|
Next >