< Previous
|
Next >
Wednesday 21st April - San Pedro to Placencia
Friday, 23rd April 2004 19:04
We got up early and took a copule of picures of San Pedro itself, cos we realised none of you guys know what it looks like. It looks a lot like this: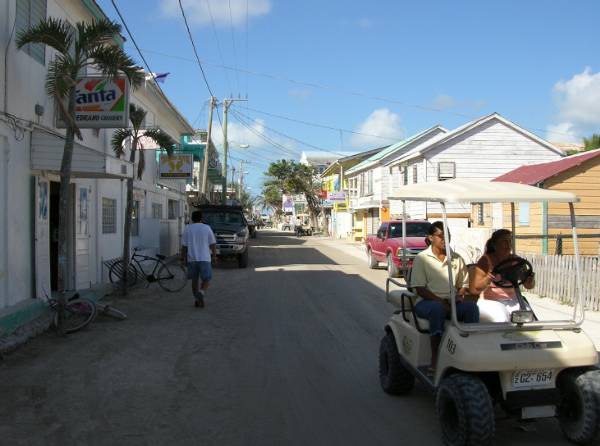 We picked up the CD of photos from the dive from Robbie. He was American originally but has lived here for 15 years and he's picked up one of the locallanguages with is really just English with a very, very strong lilting Carribean accent. Belizeans tend to use it when they talk to each other and it can be very hard to understand. It's funny hearing it froma guy with a perfectly servicable American accent of his own. From the dive shop, we took pictures of the beach too: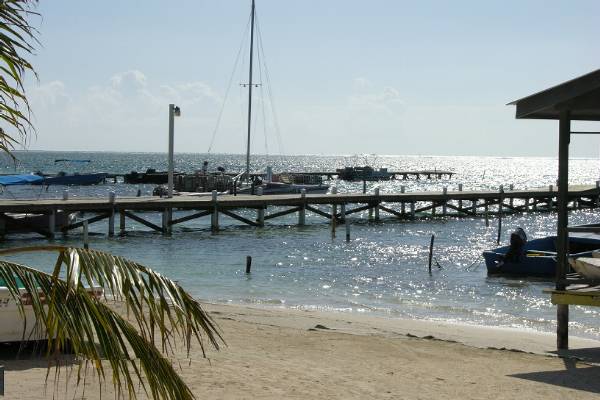 and headed for the water taxi pier. Had breakfast (ordered fried eggs, bacon and toast, got scrambled eggs and fried potatoes) and got on the 9.30am taxi to the mainland. A beautiful, cloudless 30-minute ride to Caye Caulker, then a similarly beautiful 45-minute trip to Belize City. I have actually decided that I don't like Belize City. I was holding out on making that decision, hoping it would reveal some inner charm, secretly burried under the rubbish, the open sewers, the loud music blaring and the gangs of people hanging around staring, but it didn't.
On the way to the bus station some lads tried to sell me a white parakeet that they had in a toaster box, but I couldn't fit it into my bag. Must get a bigger bag. We had an hour to wait at the bus station for a bus to Dangriga, a town half way to Placencia, also on the coast. It was very hot in the tin-roofed bus station, and even hotter on the 25-year old bus. It had wooden baggage storage above the seats, bolted to ceiling with rusty metal bars, and about 20 minutes into the trip Mikey realised he could see the road through several holes in the floor. The drive, which to my mind should have been straight down the coast, actually went to Belmopan, the capital city, and virtually every village along the way. It took two and a half hours and although it was hot, it was a very beautiful trip. The coutryside was gorgeous, with mile upon mile of incredibly flat orange groves, all planted in neat diagonal lines as far as you could see, and then suddenly lumpy mountains appear from nowhere, covered in tropical vegetation and then it's the orange trees again.
In Dangiga we had to wait for two hours until the bus to Placencia was due to leave, so we put our bags in the freight room and wandered round Dangriga. It seemed to consist of a single dusty street with houses and rusty cars all along it, interspresed with hardware stores and small cafes. People were just standiing around, looking like they were doing very little, occasionally asking us if we had any money. The street ran parallel to the beach, so after we'd walked down as far as we wanted to (it was all residential and with children playing in the road it seemed almost as if we were walking through people's homes), we crossed over to the beach. Although the sea looked lovely, the seafront (you couldn't call it a beach) was really weird, with only an inch or so of damp sand before the grass started. There were lots of dead palm branches and bits of hairy seawed washed up too, a few coconuts and lumps of wood. There was nowhere really to walk, except for the dusty, patchy grass of a playing field directly on the sea, where some children were playing a far-too-energetic game of football on the way home from school. We went back along the sea and back to the bus station, satisfied that we'd explored the whole of Dangriga in 45 minutes. We sat and read, and a nice lady from the Dangriga tourist board came along and asked us about our trip and we filled in a questionnaire, the point of which was to find out why travellers don't visit Dangriga and stay for a while.
The three-hour trip to Placencia, accompanied by too-loud reggae (a 20-minute tape on contiunous play) was more of the same spectacular scenery, with the paved road giving out after an hour or so, and a dry, orange mud road taking its place. Although a little rutted and bumpy in places it was wide enough for oncoming traffic too, and it seemed that it would have been re-rolled every time it rained for it to be in as good condition. It did look like whole areas of the country would be stranded in even the briefest rain storm though.
It got dark at 6, so there was not much to see. This bus seemed slightly more intact than the other one and there were no gaping holes in the floor. As we reached the peninsular on which Placencia was built, the jungle scenery became more overgrown and fireflies flashed through the darkness. Huge houses with balconies and verandahs lined the sea front and the road twisted and turned. We arrived in the dark again, something I'd like to avoid in the future. You get no feel for a place in the dark, it all looks a little hostile and it's hard to find your way around when there are no streetlights. We asked the bus driver to recommend somewhere to stay, and he suggested an inexpensive hostel called Omar's,about 200 yards down the road. We, along with a guy who kept talking to me in Dutch, made our way there down a slightly raised concrete pavement in the sand.
Omar's was a cafe downstairs with rooms above, and the owner showed us a room with a bare lightbulb dangling and two alcoves, one with a shower and one with a loo, but no doors on either. It seemed quite clean though, and it was cheap by Belizean standards to we agreed to take it and went back downstairs to pay. The cafe walls were plastered with scraps of paper with menu items scrawled on them in large, childish handwriting. A couple of them were crossed out and the words 'NOT ANY MORE' were written over them, and it was all a bit creepy. The man who ran the place had trouble adding up when we wanted to pay for two nights, and he wrote numbers on a pad of paper that he then tried to do long division on, but was rescued by his wife amd we were finally given change.
We went out to the Purple Space Monkey Village for supper as it seemed to be the only thing that was open at 8pm and you can't go past a place called the Purple Space Monkey and not go in. We were back by nine, and just as I was starting to unpack my bag, a big black shape scuttled along the ceiling. I don't really have a problem with most bugs, and cockroaches, although unpleasant, are, generally speaking fine. I once went for a PhD interview where the guy showing me around led me into a dark, hot room, closed the door and then switched the light on. 'This is the roach room,' he said, and every wall was covered in shelves with cage upon cage of cockroaches all wiggling around. I didn't even mind that too much. This one sat on the ceiling for a while and looked at us, then ran into the corner of the room above the shower. I ignored it and Mikey, who'd never seen one before, was unfazed. But then it jumped off the ceiling and flew towards Mikey, who, realising that these beasts had wings, was slightly less impressed. We went downstairs and asked the owner, who was closing up for the night, if he had any bug spray, and he came up, sprayed the room and got us to wait outside for five minutes while the stuff worked. 'They will all die now,' he said confidently and left. We gingerly went back in and there was no sign of the bug. We picked our bags up and it ran out at me. Mikey improvised with an empty water bottle cut in half and almost succeeded in trapping it, when another one appeared. And another. Instead of killing the cockroaches, the bug poison had drawn them out, as if it was a challenge to their infamous immortality. We (Mikey) caught and took out three but they kept coming. By this time we were getting jumpy, seeing them everywhere, and they began to crawl over our feet. I got the mosquito net out, thinking that it might provide a refuge, but in the end we decided to find somewhere else to stay. We tried the Space Monkey place but they had no rooms and although the owner tried to phone other places for us, it was after 10pm and everyone was shut. When we mentioned the bugs the question was 'Are you staying at Omar's?' which told us all we needed to know. We walked back in the dark, determined to sleep out on the verandah in a hammock instead, when a lady walking a big black dog asked us if we needed anything. She offered us one of her cabanas and we gladly accepted, ran back to Omar's to get our bags, packed them quickly but gingerly and back to the cabana.
Clean, off the ground, away from the restaurant, with hot water and a nice cool fan, there was not a cockroach in site. We slept really well.
< Previous
|
Next >