< Previous
|
Next >
Tuesday 25th May - Balmaceda
Wednesday, 26th May 2004 01:18
We had finished all the things it was possible to do this time of year down here, and, because we had a few spare days and because we thought it would be fun, we decided to spend the day in Balmaceda. We knew nothing about the place, except that it had an airport, and only one of the six guide books I'd consulted in order to find out about Balmaceda actually mentioned it. They said it had an airport. The plane from Punta Arenas actually flies all the way to Santiago, stopping here and in Puerto Montt. After an early breakfast (at which we met Jonathan, the nice French lad from all of our tours in Puerto Natales, who had the sameflight as we did) the hostal lady's husband drove all three of us to the airport. As always, I set off the metal detector.
The flight started with the now-legendary LanChile safety video, which states that 'mobile phones and remote-controlled cars may not be used on this flight' and has a little animation of a remote controlled car. Makes me laugh every time.
It only took an hour to get to Balmaceda. The cloud cleared as we descended, and I was able to get a good look at the town. Which was about 20 houses in a prairie that spanned a couple of hundred miles. Maybe that was why we'd been unable to locate the place on any map. That should have told us all we needed to know. It's an airport. That's it. We'd be hard pushed to find a day's worth of sight-seeing here.
It was smaller in real life. The first thing you see as you leave the baggage claim area is people offering to take you out of the town. Foolishly, we ignored them. But we did change our flight - we'd be able to get on the Santiago flight at 5pm. That gave us six hours before we had to be back at the airport. We could certainly find something to do in Balmaceda for six hours, there must be something going on. The airport was almost deserted and we couldn't check our bags in, but the amused ladies at the LanChile desk offered to look after them until later.
It took thirty minutes to walk from the airport to the town and down every single road, right to the edges where it meets the grassland, and back again. We saw every sight the town had to offer: mud roads, thirty houses, almost as many churches, a bunch of horses and some sheep bones in the mud. And an old man wearing very baggy trousers tucked into red boots. If a local shop had been open, we would have expected to see Edward or Tubbs telling us not to touch the precious things. This is one of the roads: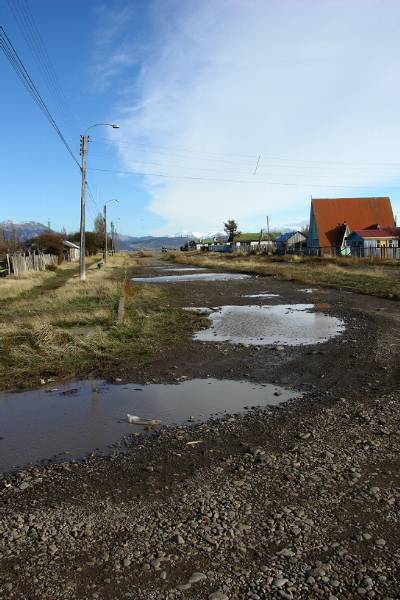 It was incredibly cold and windy, all the houses were made out of planks of wood and corrugate iron, only a few didn't have holes in, there was a single paved road leading to the next town, a couple of hundred miles away (I think) and there was nothing else in the area except the snowy mountains in the distance. It was the bleakest, most isolated place I have ever seen. And, to prove it, we came back to the airport to wait for five and a half hours because there is absolutely nothing else to do here except leave.
We watched the aeroplane we could have stayed on leave. We willed two other planes to make it off the edge of the runway so they could escape into freedom and now the airport is closed. There are no other flights until 5pm, we are sitting in a (closed) cafe, the check-in desks are unmanned, and, apart from a lady cleaning some windows, we are the only people in the entire place. It reminds me of a story called 'The Langoliers', by Stephen King. It's a spooky, frightening place.
On the plus side, we didn't have to spend the night here, which had been a real possibility while LanChile were trying to change our flights.We should, if we ever manage to leave, be in Santiago by 8 tonight.
< Previous
|
Next >