< Previous
|
Next >
Northland
Friday, 18th June 2004 22:46
Our temporary car turned out to be a Japanese built Ford Laser. Not the best car in the world but it worked. We headed north from Auckland just before lunchtime and took in a few small towns on the way along with lots of stunning scenery. We also took a quick tour through some glow-worm caves owned by a Moari family and we stopped to use some World Famous Toilets.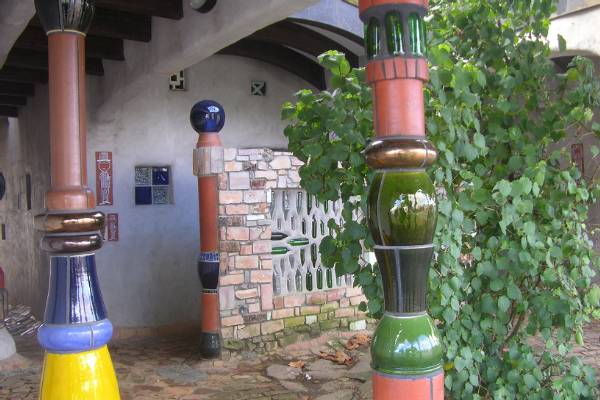 We ended up stopping near a town called Whangerei for the night. We had an early dinner in a pub / restaurant. It turned out to be a good thing or we would have been caught in the middle of the England vs New Zealand rugby match that England lost spectacularly. We stayed in a bizarre hostel that was actually the back part of someone's house set in 30 acres or so. It's kind of weird sharing a house with a family you've never met before so we were sort of relieved to leave again in the morning. That day was mostly a scenery day. We saw the By of Islands and lots of other good stuff before stopping for the night in Kahoe.
Kahoe Hill Farms is a 2200 acre farm run by one family. One part of the family also runs a hostel, a nice one at that. From the hostel, everything you can see but the road is owned by the farm. Pretty cool. The hostel itself was beautifully set out and decorated and were it not for the remote location it would be an expensive hotel. The chap in charge was Stefano, a complete football nut but a great host. He makes great pizzas too. After a chilly night, we walked around the farm for a while, admiring the scenery and animals. The farm has lots of cows. It also has a couple of Kune Kune pigs (who are set to become movie stars apparently) and some donkeys. One of the donkeys decided to chew Claire's hand and leave a few tooth marks. It probably didn't help that Claire was inserting her hand into its mouth at the time.
Hand freshly chewed, we embarked on a journey of several hundred kilometres to visit the very north of New Zealand (Cape Reinga) and ninety mile beach. Ninety mile beach is called ninety mile beach because it's ninety miles long. We had lunch there and took a few photos before carrying on to the top. At Cape Reinga, we had a wander round for a few minutes. Just off shore we saw a cloud at about eye level that was raining into the ocean (or sea - The Tasman Sea and Pacific Ocean meet at this point) which was sort of weird to see. Eventually we had to leave because we wanted to reach a small town quite some distance away before darkness. We managed to get there by 8pm, which wasn't bad going really.
We spent our final day in the Northland seeing Kauri trees and forests. Kauri trees are rather big and old trees. The biggest and oldest is over 50m tall, 13m in girth and about 2000 years old. Its name is Tane Mahuta (God of the Forest) and it is big. Not as big as a Giant Redwood apparently but then I wouldn't know as I haven't seen one of those.
We returned to Auckland and swapped our car for the one we are supposed to take to Christchurch. It's much nicer, a big grumbly Ford with a radio that picks up more than just a single religious songs radio station. That night we popped out to the cinema again to see another film we had wanted to see in England but Warner Village had not shown, The Station Agent. Only a small, independent film, it is a must see one. We really enjoyed it and I think it'll have to become part of our collection when we get back home.
After checking out of our hostel, we visited the last two sights that we wanted to see in Auckland before moving on. The first was the Sky Tower. The tower is just 8m taller than the Eiffel tower and gives a nice view over Auckland. It also boasts some 38mm thick glass floor panels that allow you to look straight down. Some people quite happily walk across them and some steadfastly refuse.
The other sight we wanted to see was Mount Eden, an extinct volcano in the centre of Auckland.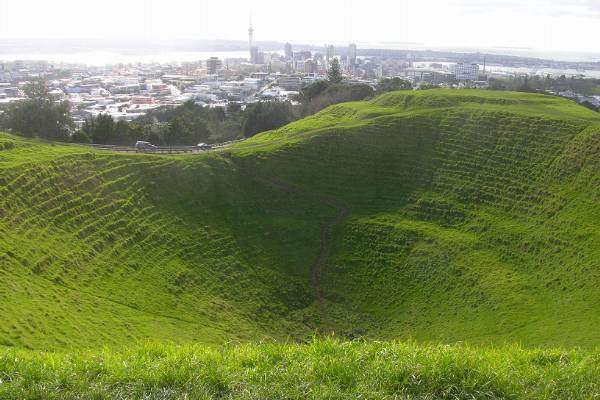 After eating our lunch on the volcano, we headed out of Auckland and on towards Hamilton.
< Previous
|
Next >