< Previous
|
Next >
Wednesday 16th June - Auckland to Hamilton
Friday, 18th June 2004 22:54
We decided against climbing the harbour bridge because we'd be doing the Sydney Harbour Bridge tour next month, so instead we walked into town to see the Sky Tower, which boasts that it is the tallest man-made structure in the Southern hemisphere, and is actually eight metres taller than the Eiffel Tower. Glass-walled lifts took us up to the first observation deck.
There was a lovely view from up here, and they'd even put glass floors in some places so that you could see all the way down. It was funny watching people hesitating to step on the windows.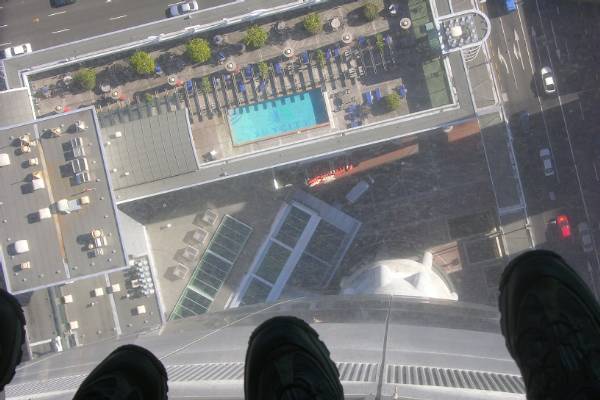 We could see Mount Eden in the background, our next stop this morning, along with a dozen or so other soft round volcanic hills. There was also a great view of all the boats in the harbour, which reflected Auckland's nickname as the 'City of Sails' (although there weren't that many sails today).
We took the next lift up to the second observation deck and watched a bit of a film about the Sky Tower jump. It's not a bungy jump, which would make me feel sick, and it's not a parachute jump which is just plain stupid, but a base jump on wires, which looked very tempting for a few seconds until I remembered that I'd probably hate it. Still, they do say that if there's a difficult, dangerous or stupid way to do anything, you can do it New Zealand, so there's still time, I suppose!
We stopped by the doughnut shop on our way out to Mount Eden, and drove to the top for lunch. I was surprised by the huge crater in the middle, but I shouldn't have been, considering it's a volcano. There was a nice view from up here, but it was very windy, so we took a few photos and went back to the car.
Leaving Auckland, we took a scenic route south, to a town called Hamilton. It was a a very uninteresting place with '60s-style concrete shopping centres, a single storey high, and quite a few industrial estates along the road. We found the hostel and we were greeted by an overly-happy Maori woman and shown to our room - a double bed with a bunk bed on top. She wanted to know if we wanted blankets, and it was just as well that we said we did because other than a sheet, there were no other bedclothes.
We went shopping for food and came back to cook supper. Gradually the small kitchen filled up with the other hostel residents: a bunch of long-haired 40- to 50-year old men in checked shirts and dirty jeans. They just sat in the kitchen and stared at us or the television. A bit intimidated, I washed up quickly and left, but later I managed to chat to a couple of them and found out that they were in town for a massive agricultural fair that began in the morning. Glad that they weren't other backpackers, I went to sleep quite early, mostly to escape.I am grateful to my mum, though for giving me ammunition against the constant rugby jibes (I didn't see it and I don't care!): I told one of the guys that if he talked about rugby I'd be obliged to mention the cricket. 'Fair play, mate,' he said, leaving the room, 'You can't get better than 3 out of 3.' I think I won that one.
< Previous
|
Next >